February 4, 2013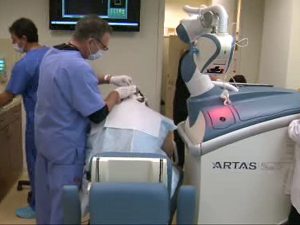 As our Institute became 1 of just 15 clinics in the nation to offer the revolutionary new ARTAS® System for hair restoration, South Florida residents have become increasingly curious as to how the system works, and why it is more proficient than traditional FUE hair transplant procedures. Last month, Dr. Rose reached out to these individuals, presenting an exclusive interview with CBS Miami about the futuristic hair loss solution.
To learn more about the ARTAS System, readers are invited to schedule an appointment online or contact the Hair Transplant Institute of Miami directly at 1-877-443-9070. Our Institute represents South Florida's finest hair transplant surgeons, and we hold your pursuit of a fuller, natural-looking head of hair in the highest regard.
CBS Exclusive: ARTAS® System at the Hair Transplant Institute
In the video above, one of our patients explains his experience with the ARTAS System. Our patient began experiencing hair loss at a very early age, which is not entirely uncommon among young men. By age 35, it is estimated that roughly two-thirds of all American men experience some degree of hair loss. Androgenetic alopecia, a genetic condition that causes the phenomenon of hair miniaturization, is one of the leading causes. For many of these individuals, a hair transplant procedure is the most effective means of restoring areas of baldness with real hair that is vibrant, lasting, and all-natural.
Our patient chose the ARTAS System for its advanced ability to produce a transplant with greater accuracy, precision, and consistency compared to traditional methods. Moreover, the ARTAS System extracts donor hair via follicular unit extraction (FUE), a refined process that does not leave a linear scar through the donor area. This was another major reason the procedure was chosen, our patient tells CBS. Following the procedure, our patient can wear his hair very short without exhibiting any signs that a transplant has been performed, like linear scars.
Best of all, our patient explains that during the procedure he felt no pain at all. Although a traditional FUE hair transplant does not cause much discomfort at all, the ARTAS System reduces feelings of discomfort to a nearly undetectable level.
Because the technology uses digital imaging to continuously locate the best hair follicles for transplant, Dr. Rose is able to extract follicular units with unparalleled precision, causing very little scarring or trauma to the scalp. Turnaround time is reduced, meaning that patients may return to their normal day-to-day activities more quickly.
Getting to Know ARTAS®
Would you like to get better acquainted with the ARTAS System? Below are a few of the most common questions our patients have about this revolutionary new piece of technology. For a more in-depth Q&A, readers are invited to visit our guide, Frequently Asked Questions About ARTAS Hair Transplant.
How does ARTAS differ from traditional transplant procedures?
ARTAS combines high resolution digital imaging with advanced robotics technology to enable our physicians to locate and extract follicular units with greater accuracy and precision compared to traditional transplant methods. Of course, each ARTAS procedure is always conducted under the control of an experienced hair transplant surgeon to ensure patient safety and individual results are held in the highest regard.
Is the end-result natural in appearance?
One of the greatest advantages of the ARTAS System is the way in which it targets follicular units for transplantation. Not only does the technology identify prime candidates (follicular units) for transplant, but it also selects them in a randomized fashion. As a result, there is virtually know sign of extraction in the donor area, preserving its natural appearance.
Is the transplant permanent?
ARTAS System procedures are almost always permanent. Transplanted hair has great potential to last a lifetime, as it is harvested from the rear of the head in a minimally-invasive manner that causes very little trauma to the scalp.
Learn More About the ARTAS® System
If you experience hair loss, you are not alone. More than 60% of adult males experience symptoms of baldness by age 35, and millions more females experience shedding, thinning, or loss over the course of their life. Today, hair loss is more easily detected and treated than ever before. And with technologies like the ARTAS System by Restoration Robotics, men and women may choose a procedure that produces beautiful, natural-looking results with minimal disturbance to personal life.
To learn more about the ARTAS System, readers are invited to schedule an appointment online or contact the Hair Transplant Institute of Miami directly at 1-877-443-9070.
Sources for this article include:
(i) High-tech Transplant Procedures for Hair Loss. CBS News, Miami. Accessed January 29, 2013.