December 18, 2012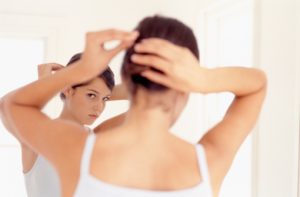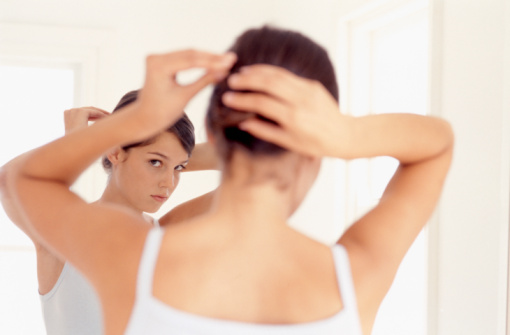 We typically associate 'hair loss' with older individuals, particularly gentlemen who experience male pattern baldness. However, it is common for teenagers to also experience symptoms of thinning, balding, or shedding. When it strikes, hair loss can cruelly disrupt a teen's sense of self-esteem, confidence, and social life.
If you are a teenager and you notice signs of hair loss, rest assured that you are not alone. There is a growing population of boys and girls between the ages of 13 and 19 who share your experience, and there are a variety of lifestyle changes that you can make to improve the health of your hair.
An important note to our readers: This special health report has been created to provide an overview of the top 7 causes of hair loss in teens. It is intended for informational purposes only, and readers must remember to always consult a physician prior to making changes in diet or exercise regimens.
For additional information, readers are invited to learn more about hair loss evaluations online or contact our Institute directly at 1.877.443.9070.
What Causes Hair Loss in Teenagers?
Alopecia Areata
Alopecia Areata is a specific type of baldness that occurs in concentrated, rounded areas. It may occur on the scalp or on other portions of the body. At times, Alopecia Areata may manifest itself in several locations at once. For example, hair loss may simultaneously occur on the crown of the head, the sides of the head, and on the arm.
It is estimated that somewhere between 1-2% of Americans suffer with Alopecia Areata, including teenagers. For individuals who are affected by this condition, a new study released by Japanese researchers in Tokyo has called the treatment for Alopecia Areata 'favorable'.
Androgenetic Alopecia
Androgenetic Alopecia is the most common cause of hair loss, affecting an estimated 2/3rds of all American males. Though most common among males over the age of 50, this type of pattern baldness may still affect teenagers. Females, in particular, may experience Female Pattern Hair Loss during the final teenage years and early-to-mid twenties.
Female Pattern Hair Loss
Female Pattern Hair Loss is a specific type of Androgenetic Alopecia (discussed above) that may affect teenage girls following puberty. This condition is most easily identified by a widening "part" that makes more and more scalp visible when styling the hair.
Proactively practicing stress management and nutritional awareness are two important steps in dealing with Female Pattern Hair Loss. For additional information, readers may visit this article on the 6 Ways to Prevent Female Hair Loss.
Traction Alopecia
Traction Alopecia is another common cause of thinning or shedding hair among teenagers, and it occurs when an unnatural amount of tension is applied to the hair for a prolonged period of time. The good news: Traction Alopecia is one of the few causes of hair loss in teens that is behavioral. Like unconscious pulling or plucking (see below), hair loss that results from Traction Alopecia may be significantly reversed simply by identifying and halting the behaviors that cause it.
For more information, please visit Traction Alopecia: Causes, Prevention, and Treatment.
Unconscious Hair Pulling and Plucking
Unconscious hair pulling or plucking is often the result of 2 different behaviors: Styling, and Trichotillomania. When it results from excessive styling, the hair loss typically occurs along the eyebrows and among the eyelashes. This is common among teenaged boys and girls alike, depending on the frequency and intensity with which they groom their eyebrows and eyelashes.
The second form of unconscious hair pulling / plucking is Trichotillomania. A psychological disorder, Trichotillomania occurs when a teenage boy or girl pulls their hair until it is uprooted, often leaving large areas of thin hair, damaged follicles, or total baldness. The best course of treatment for this type of hair loss is to consult a mental health professional or behavioral therapist to learn more about why the behavior is occurring, and how behavioral modification can be implemented to reduce its incidence.
Prescription Medications
Prescription medications are commonly used to treat a variety of health conditions among teenagers. Thyroid disorders, acne medications, and contraceptive medicines are just a few examples of the most common medications that may cause hair loss.
For a more comprehensive list, as well as hair loss prevention tips, readers may visit this article on prescription medications and hair loss.
Poor Diet
We've all heard the saying: You are what you eat. The skin and hair are the most noticeable reflections of that age-old adage, mostly because they are among the first physical characteristics we notice about another person. Failure to eat well can make it very difficult for your body to get the macronutrients, vitamins, and minerals it needs to maintain healthy hair. And while eating well may not be enough to reverse pattern baldness, it can certainly help to improve the health and longevity of existing hair.
To ensure the most naturally beautiful hair possible, individuals of all ages are encouraged to get plenty of these foods for healthy hair.
Learn More About Hair Loss and Restoration
Are you a candidate for a hair transplant procedure? Our clinic is home to the finest technicians, registered nurses, and hair transplant surgeons in Florida. Request an appointment online, or call our clinic directly at 1-877-443-9070.