June 12, 2012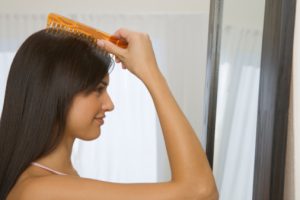 Hair loss in women is more common than many may think, amounting to nearly 20 million females in America alone.  Most women do not notice signs of thinning or balding in their hair until the age of 50 or 60, long after it has already begun.  It may take women much longer to notice the signs of hair loss compared to men because they tend to wear their hair longer, effectively hiding telltale symptoms of hair loss for many years.  Women also lose hair across the entire top of the head, in contrast to men who typically lose hair in concentrated areas like the crown or temple.  This wider, more dispersed pattern of hair loss adds to the difficulty of early detection.
Yet it is early detection, evaluation, and treatment that are the 3 keys to effectively treating hair loss in women.  Early detection is perhaps most important, as hair loss is most effectively treated during the early stages of development.  For this reason, it is important that women learn to recognize the signs of hair loss while also performing regular self-examinations to ensure symptoms are caught as soon as they become visible.
Top 4 Signs of Female Hair Loss
Female hair loss manifests itself in a variety of ways; learning to recognize the signs of thinning or balding is the best way to diagnose and treat the condition early, which ultimate creates better results.  The most common signs to look for include the following:
Thinning hair:  Unlike men, hair loss in women tends to develop in a general or widespread area throughout the top of the head.  Women must pay particular attention to this region, checking regularly for noticeable changes in thickness.
A wider "part":  If you regularly part your hair, take note of the thickness/width of the part.  Parts will appear to become wider as hair loss progresses.
Hair accumulation on pillows, combs, and in the shower:  It is normal for hair to accumulate on our personal items and throughout our living spaces.  However, hair accumulation in these areas will become more pronounced as hair loss progresses.  Here's a tip:  Look for increases in hair accumulation on the pillow of your bed and the comb you use most.  Effectively monitoring hair accumulation in the shower may be more difficult; some hair is inevitably washed down the drain, and it may be challenging to separate your hair from someone else's.
A more visible scalp:  Take notice of how much of the scalp is visible when your hair is pulled back.  As hair loss progresses, the underlying scalp will become increasingly visible.