October 3, 2013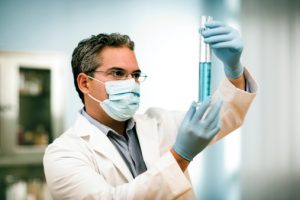 From nano-scale biomedical robots to prosthesis that can be controlled by thoughts, contemporary medicine is brimming with new and innovative solutions to some of the world's most challenging mental, physical, and emotional issues. In the field of hair restoration, equally exciting advances are being made toward hair cloning, an advanced treatment protocol that experts hope will someday be able to reverse the signs of androgenetic alopecia (pattern baldness) in men and women.
Can Surgeons Clone Hair?
Presently, hair cloning is not available as a treatment for hair loss. As noted by researchers at Columbia University, follicular units present a unique challenge because they are complex and difficult to duplicate in vitro (in a laboratory). Nevertheless, researchers are resolute in their pursuit of a procedure that will effectively clone hair to mask the signs of loss.
To accomplish this, researchers turn to the small nipple-like structures that channel blood, oxygen, and nutrients into hair follicles, called derma papilla (DPs). In a paper titled Follicular Cell Implantation: An Emerging Cell Therapy for Hair Loss, Drs. Jeffrey Teumer and Jerry Cooley explain that these structures have an inductive property that might enable them to produce additional hair follicles when cultivated in vitro.
4 Hair Cloning Techniques
Although science has a ways to go before hair cloning procedures are available, there are at least 4 experimental cloning methods that researchers hope will someday be used to reverse hair loss. Each involves the extraction, manipulation, and implantation of the dermal papilla (DP) cells. These methods include (i):
1. Dermal Papillae Implants (alone)
In this technique, cultivated DPs are implanted in the patient's scalp. Ultimately, the goal of this procedure is to transform the overlying skin cells into hair follicles. If successful, DP implants have the potential to spur new hair growth in areas where hair follicles have become dormant, miniaturized, or otherwise incapable of sustaining natural hair growth.
2. Dermal Papillae Implants (close proximity to miniaturized follicles)
This technique involves stimulating a pre-existing hair follicle with cultivated DPs, making it significantly different from the DP implant method described above. Scientists believe this method has the potential to produce very natural results, as it capitalizes on follicles that already have the foundational alignment and structure needed to produce a natural look.
3. Proto-Hair Implants
This particular approach has the advantage of producing better hair direction, and thus a more natural look, according to researchers. Proto-Hair implants are created by first cultivating DPs with other skin cells (keratinocytes). Then, the groupings are left until partial hair formation occurs. Finally, the resulting cells are implanted into the scalp.
4. Collagen Matrix Implants
Similar to the Proto-Hair implants described above, this approach to hair cloning implements a collagen matrix to further assist in the cultivation of hair follicles with a healthy and natural orientation. Once cultivated, the follicles are transplanted to restore areas of balding scalp.
Schedule a Hair Loss Evaluation
Our team proudly represents South Florida's top surgeons, registered nurses, technicians, and technologies. We understand the agony and frustration that accompanies hair loss, and we are committed to helping you develop a customized plan that will create natural results. If you or a loved one is experiencing symptoms of thinning, shedding, or balding, contact the Hair Transplant Institute of Miami to schedule a comprehensive hair loss evaluation.
Contact us online or call our Institute directly at 1.877.443.9070.
Sources:
(i) Teumer J. "Strategies for Follicular Cell Implantation." Hair Transplant Forum International. Published 2008.