June 4, 2012
Exploring low level laser therapy with the LaserCap™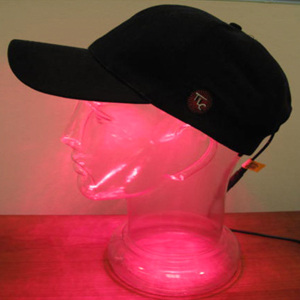 Hair restoration procedures are increasing in popularity among both men and women who desire a greater sense of overall health and well-being.  Long gone are the days of unsightly hair plugs—new procedures and sophisticated technologies are now available to create natural looking results that last.  Today, men and women of all ages understand that it's never too late to look their best, and they are taking advantage by pursuing effective hair restoration procedures that add youthful confidence to everyday life.  Laser hair therapy is the newest of these procedures, offering patients a means of stimulating natural hair growth through low level laser technologies that are safe, convenient, and painless.
What is Laser Hair Therapy?
To understand laser hair therapy, it is helpful to first understand the concept behind ordinary hair transplant procedures.  Hair transplant procedures are highly effective for both men and women who suffer with hair loss.  Restoration typically involves transplanting real hair, referred to as the donor dominant hair, from one area of the patient's scalp to the restoration site, or the area of the scalp that is thinning or balding.  It is important for prospective patients to know that donor dominant hair is carefully selected based on its ability to continually grow throughout their lifetime.  This ensures that hair is taken from an area that is at low-risk for future thinning or balding.  Donor dominant hair is then transplanted to the restoration site with needles that compare in size to those used by wellness spas and acupuncturists.  All in all, the pain associated with a hair restoration procedure is minimal and compares to that of a typical visit to the dentist.
However, not all individuals are candidates for a hair transplant procedure, and countless others prefer to avoid prescription hair loss medications altogether.  For those individuals, laser hair therapy is a new option that effectively stimulates natural hair growth.