March 20, 2013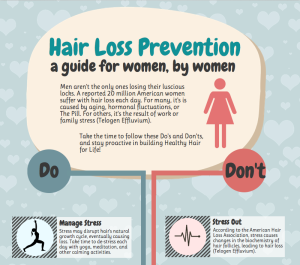 As the Miami Hair Blog gets ready to celebrate its 1-year anniversary, our editors have teamed to provide our readers with 2 exclusive resources on hair transplant surgery and general hair health.
As a special thank-you to everyone who has helped make our Blog the growing success it is today, we've transformed our 2 most popular articles into vibrant, easy-to-follow infographics! These infographics are a visual representation of the data and knowledge that our Blog delivers weekly, making them ideal for readers who consider themselves to be visual learners at heart.
Women and Hair Health: A Guide for Women, By Women
Men aren't the only ones who are losing those luscious locks of hair. At least 20 million American women report signs of thinning and shedding hair, two serious conditions that may ultimately lead to significant mental and emotional distress.
In August, the Miami Hair Blog published a broad overview of the most common causes of hair loss in women. Within a few short weeks, our article became one of the most heavily trafficked pages on our entire website, which only reinforces the importance of this serious issue. The causes of hair loss among females can be attributed to a number of factors, including:
Emotional stress
Poor diet / nutrition
Unhealthy Scalp
Thyroid Disorder
Androgenetic Alopecia
High-androgen Birth Control
Free Infographic: Women and Hair Health
For all of our visual learners out there, we decided to reproduce this article in the form of a free infographic. Readers are invited to Like us on Facebook for complimentary access to Women and Hair Health: A Guide for Women, By Women.
5 Characteristics of a Natural Hairline
Last summer, the Miami Hair Blog produced and exclusive article on the 5 characteristics of a natural hairline. In the article, Dr. Rose shares with readers the most important keys that every surgeon should consider when conducting a transplant procedure. The frontal hairline is perhaps the most noticeable portion of one's hair, making it critical that the hairline be restored with a detail-oriented approach that focuses on replicating authentic density, thickness, and even all-natural randomness.
Free Infographic: 5 Characteristics of a Natural Hairline
All are welcome to Like us on Facebook for free access to our newest infographic, 5 Characteristics of a Natural Hairline. In this infographic, Fans will learn about the 5 most important aspects of an all-natural hairline through an easy-to-follow visual graphic that has been produced by our team. From everyone at our Institute, we look forward to connecting with you!
To Our Readers: Thank You for All of Your Kind Feedback!
Both Common Causes of Hair Loss in Women and the 5 Characteristics of a Natural Hairline articles have been a great success, generating positive feedback, reader comments, and general inquiries via email and social media. It has been our pleasure to get to know so many readers through this article alone, both from the Miami-area and abroad!
To stay in touch with our Institute, readers are invited to subscribe to the Miami Hair Blog RSS Feed to receive free updates as new content is published each week. Readers may also connect with our Institute on the following social media communities, where it will be our pleasure to discuss hair loss, share transplant success stories, and circulate important health resources: