December 7, 2015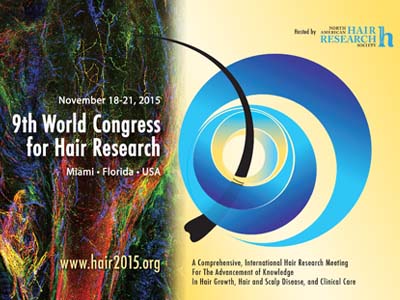 Last week, Dr. Bernard Nusbaum attended the 9th World Congress for Hair Research to lecture and meet with other hair loss professionals to advance the knowledge in hair growth, hair and scalp disease, and clinical care. In attendance were other hair biologists, dermatologists, cosmetic scientists, and hair transplant surgeons from prestigious clinics and universities around the world. From November 18th-21st, all attendees enjoyed general sessions, scientific posters, pre-Congress workshops, and exhibits from the world's leading makers of hair loss products and medical devices. Sponsors this year included Rogaine, P&G, Aveda, and the International Society for Hair Restoration Surgery (ISHRS), to name a few.
Event Photos: 9th World Congress for Hair Research
Dr. Bernard Nusbaum
Learn more about Dr. Bernard Nusbaum. For more information on hair loss evaluation and treatment at the Hair Transplant Institute of Miami, contact us online or call 305-925-0222.