June 4, 2012
Exploring low level laser therapy with the LaserCap™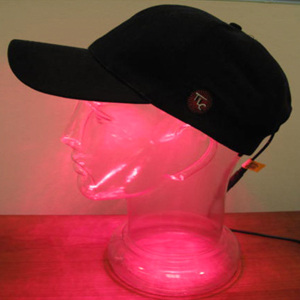 Hair restoration procedures are increasing in popularity among both men and women who desire a greater sense of overall health and well-being.  Long gone are the days of unsightly hair plugs—new procedures and sophisticated technologies are now available to create natural looking results that last.  Today, men and women of all ages understand that it's never too late to look their best, and they are taking advantage by pursuing effective hair restoration procedures that add youthful confidence to everyday life.  Laser hair therapy is the newest of these procedures, offering patients a means of stimulating natural hair growth through low level laser technologies that are safe, convenient, and painless.
What is Laser Hair Therapy?
To understand laser hair therapy, it is helpful to first understand the concept behind ordinary hair transplant procedures.  Hair transplant procedures are highly effective for both men and women who suffer with hair loss.  Restoration typically involves transplanting real hair, referred to as the donor dominant hair, from one area of the patient's scalp to the restoration site, or the area of the scalp that is thinning or balding.  It is important for prospective patients to know that donor dominant hair is carefully selected based on its ability to continually grow throughout their lifetime.  This ensures that hair is taken from an area that is at low-risk for future thinning or balding.  Donor dominant hair is then transplanted to the restoration site with needles that compare in size to those used by wellness spas and acupuncturists.  All in all, the pain associated with a hair restoration procedure is minimal and compares to that of a typical visit to the dentist.
However, not all individuals are candidates for a hair transplant procedure, and countless others prefer to avoid prescription hair loss medications altogether.  For those individuals, laser hair therapy is a new option that effectively stimulates natural hair growth.
Does Laser Hair Therapy Work?
Laser hair therapy is the newest hot-topic in hair loss treatment today, and it involves the use of medical-grade low level laser technologies to stimulate natural hair growth.  This new, exciting, and dynamic technology seems to have an exceptionally positive effect on hair growth.  The Hair Transplant Institute of Miami recommends laser hair therapy to patients for several reason, including:
It's a viable option for "non-candidates."  Not everyone is a candidate for a hair transplant procedure.  For individuals who are "non-candidates," laser hair therapy may be the most viable option for stimulating natural hair growth.
It's effective for women.  Often times, women may have more difficulty than men achieving full results from a hair transplant procedure.  Moreover, some women may not be candidates for a hair transplant procedure at all.  Low-level laser therapy delivers exceptional results when used before, after, or in lieu of a transplant procedure.
It's convenient.  Low-level laser hair restoration may be conducted at the physician's office, however today many individuals are experiencing the same great results using consumer products in the comfort of their own homes.
Introducing the LaserCap™:  Portable, Low Level Laser Hair Therapy
The LaserCap is the newest low level laser device available to men and women who wish to promote natural hair growth before, during, or after a hair transplant procedure.  The LaserCap works wonders for individuals who are non-candidates for traditional hair transplant procedures as well.  With nearly 3 times the power of physician's in-office dome devices, the LaserCap promises thicker, fuller hair in just 60 days of use.  The LaserCap is available by physician referral only, and we invite you to schedule an appointment with our physicians to learn more.
Hair transplant surgeon Dr. Bernard Nusbaum explains the effectiveness of the LaserCap™:
"What I am holding here is a low-level laser device used to treat hair loss called the LaserCap™.  It has 224 low level lasers. It's tremendously well engineered and top of that is extremely user-friendly. It fits completely under a hat so it's inconspicuous, easy to put on, and wear for 40-60 minutes every other day. Moreover, it comes with a rechargeable battery that fits on your belt so whether you are commuting or working on your computer, you really don't have to take time out in order to do your treatments."
"After 27 years of treating hair loss patients I am now convinced that low level laser therapy is effective in not only preventing hair loss but increasing hair density.  There are studies that support this and I have personally done studies on patients that have showed me the effectiveness of this treatment."
Learn More About the LaserCap™
To learn more about low level laser hair therapy with the LaserCap™, please schedule an appointment with the Hair Transplant Institute of Miami.  Readers are also invited to call our front desk at 305.925.0222 to speak directly with a friendly member of our office.
At the Hair Transplant Institute of Miami, we understand that hair loss can impact your personal, social, and professional life.  We're committed to making a difference in the lives and well-being of our patients, and we look forward to exceeding your expectations with only the best technologies and most effective procedures.