December 18, 2017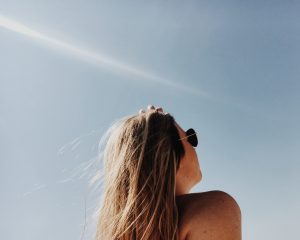 Every inch of skin on your body is vulnerable to sunburn if exposed to the sun's harsh rays for extended periods of time. This includes your scalp. Balding individuals or those with thinning hair are particularly vulnerable to sunburn on the scalp. The consequences of sunburn and overexposure to UV rays include not only short-term pain but long-term skin damage and an increased risk of skin cancer.
Understand that a sunburn on the scalp can not only be the result of having areas of thinning or absent hair, it can also cause hair loss, at least temporarily. A deep or severe enough sunburn can lead to inflammation which in turn can lead to a short-term hair loss condition called telogen effluvium.
But while you may be very good about slathering that SPF70 sunscreen all over your arms, legs, face, and torso, it can be easy to forget about protecting the skin on top of your head as well as your hair. According to the Centers for Disease Control and Prevention, exposed and unprotected skin on your scalp can suffer damage in as little as 15 minutes. If you are planning on spending time in the sun, scalp sunscreen can be the easiest way to protect and hydrate your scalp.
There are numerous sunscreen products that are specifically designed to be applied to the hair and scalp. Consider oils with UVA/UVB protection incorporated so you don't end up with greasy strands full of thick, white sunscreen. These also protect the hair itself from the sun, which can fade color when it oxidizes.
To protect your scalp, you'll want to apply sunscreen at least 30 minutes before going out in the sun and after every two hours of spending time outside. If you go swimming or are perspiring a lot, you will need to reapply the sunscreen that has been diluted or washed away by that moisture. For full-on protection, wear a stylish sunhat or baseball cap when enjoying the outdoors, which protects both skin and hair follicles simultaneously.
Here in South Florida, sun exposure and the potential for skin damage is a year-round issue. The changes in the seasons also present several other challenges for those worried about hair loss or who are currently experiencing hair loss issues. Seasonal hair loss is a common problem. Fortunately, there are ways to combat winter hair shedding, control hair loss in the summer, and protect your hair during the spring and autumn.
Schedule an Appointment for a Hair Loss Evaluation Today
No matter what the season, if you are concerned about your hair loss and are ready to do something about it, we invite you to schedule a hair loss evaluation at the Hair Transplant Institute of Miami. Drs. Nusbaum and Rose are internationally acclaimed hair restoration surgeons with more than 40 years combined experience. Both Drs. Nusbaum and Rose are actively engaged in hair loss research and lecture widely. To receive a personalized evaluation and treatment plan, contact us online or call our office directly at 305-925-0222.