June 18, 2018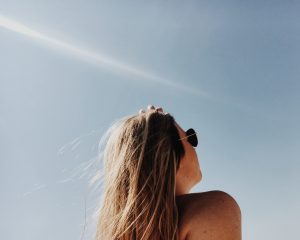 Summer's here, and the time is right for being out in the South Florida sunshine. We are lucky in that sunny days are abundant throughout the year here, but during summertime, the sun's rays are stronger and more intense. When combined with increased time spent outside, this means increased potential for serious skin damage, including sunburn. And no part of your body is closer to those harsh UV rays than the top of your head. In fact, exposed and unprotected skin on your scalp can suffer damage in as little as 15 minutes, according to the Centers for Disease Control and Prevention.
Scalp sunburn can be painful. If that sunburn is severe or deep enough, the inflammation that results can also lead to telogen effluvium, a condition that causes temporary hair loss. That's the last thing someone with thinning hair wants, but it is people with thinning hair or a bald scalp who are most vulnerable to scalp sunburn.
Fortunately, with a little care and preparation, you can protect your scalp and prevent sunburn on your scalp throughout the warm and sunny summer months. It's as easy as going to your medicine cabinet or closet.
Use Scalp Sunscreen
Even those folks who slather their face, torso, arms, and legs with sunscreen every time they go out in the sun can forget about showing the same TLC to their scalp.
In addition to the sprays and lotions, you use to protect your body, make sure you also have sunscreen on hand that is specifically designed to protect your scalp and hair. There are numerous sunscreen products that fit the bill, specifically oils with UVA/UVB protection incorporated that won't leave you with greasy strands full of thick, white sunscreen. These also protect the hair itself from the sun, which can fade color when it oxidizes.
To protect your scalp, you'll want to apply sunscreen at least 30 minutes before going out in the sun and after every two hours of spending time outside. If you go swimming or are perspiring a lot, you will need to reapply the sunscreen that has been diluted or washed away by that moisture. For full-on protection, wear a stylish sunhat or baseball cap when enjoying the outdoors, which protects both skin and hair follicles simultaneously.
Wear a Hat
Put a lid on it. Wearing baseball caps, wide-brimmed hats, or any head covering that completely keeps the scalp out of the sun is a great way to maximize your time in the sun with minimal effort. If hats aren't your thing, make sure that you find yourself plenty of shade under an umbrella or canopy to keep those dangerous rays off of your scalp.
Schedule an Appointment for a Hair Loss Evaluation Today
During summer and throughout the year, we invite you to schedule a hair loss evaluation at the Hair Transplant Institute of Miami if you are ready to do something about your hair loss. Drs. Nusbaum and Rose are internationally acclaimed hair restoration surgeons with more than 40 years combined experience. To receive a personalized evaluation and treatment plan, contact us online or call or office directly at 305-925-0222.