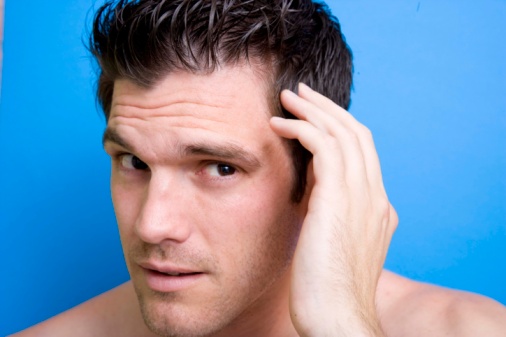 December 12, 2016
Haircuts are a routine aspect of personal grooming that individuals of all ages undergo. But when you're balding, trims are more than troublesome. After working so hard to find a style that makes you feel comfortable despite a receding hairline or thinning crown, stepping into the salon or barbershop provokes immense apprehension and worry. What if an unfamiliar stylist fails to listen to your specific needs properly, or worse, exacerbates the appearance of balding? Luckily, with some foresight and communication, you can avoid a regrettable haircut and move forward with newfound confidence.
There's no reason to fear a qualified barber – and it might be time to part with your trusty comb-over. Ask for these six sophisticated yet practical haircuts for balding and thinning scalps:
Buzz Cut
Perhaps the quickest and most straightforward haircut is the simple buzz cut. Longer hair tends to display thinning more prominently while an ultra-short cut disguises prominent balding. Because buzzcuts are universal, rest assured that there's a slim chance of your final cut ending up drastically different than you imagined due to miscommunication or an overzealous stylist. If you trust yourself and have a steady hand, purchase some clippers and trim at home to save a few dollars each month.
Pushed Back
If you suffer from thinning around the hair line, try a pushed back look. Many men assume slicking hair back intensifies a withdrawn hairline, but this look makes the gap between your brow and hairline appear intentional. Keep hairs medium length around the front to brush them back with styling cream while trimming the temples to create a volumized shape. Don't forget to purchase a high-quality pomade or hairspray to maintain that desired shape all day (or night) long.
The Caesar Cut
Made famous by George Clooney, the Caesar cut helps conceal recession by pulling short hairs forward to mimic the appearance of a youthful hair line. Make this hairdo slightly softer by angling the front instead of cutting straight across in a horizontal line. Use a styling cream to keep hairs in place throughout the day, but avoid hard gels which can lead to clumping or spiking.
Shaven
Embracing your balding while you wait for a hair restoration treatment to take effect can eliminate some of the embarrassment behind androgenic alopecia. Numerous men – even those without hair loss – choose to shave their head hair for a cleaner and sometimes more masculine look. To offset a clean-shaven scalp, and to avoid channeling Mr. Clean, let your facial hair grow out slightly for a scruffy style. Or, go with a tailored beard to channel the hipster within.
Male-Pattern Baldness Treatment in Miami
Fortunately, disguising hair loss and balding with practical cuts and styles does not have to become a lifelong endeavor. Miami's top hair restoration surgeons, Dr. Bernard Nusbaum and Dr. Paul Rose, pride themselves on delivering natural-looking hair transplant results with minimal scarring involved. The Hair Transplant Institute of Miami is the top clinic for ARTAS® Robotic Hair Transplants, a highly advanced hair restoration system that eliminates linear scarring with minimally invasive techniques, in both Florida and the entire Southeast region. No matter the procedure or treatment path, we prioritize patient comfort, open communication and idyllic results to help men regain lost confidence and restore emotional wellbeing.
Coping with hair loss does not have to be a lifetime journey. To free yourself from the confines of male-pattern baldness, reach out to us at 305-925-0222 or schedule an appointment online.