June 8, 2016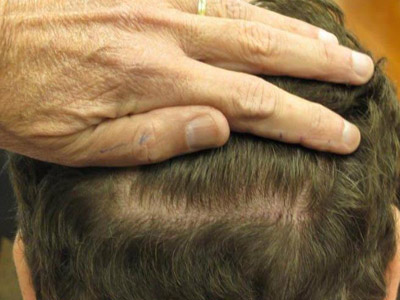 Most patients fear that a bad scar will ruin a good hair transplant. Although 100 percent scar-free hair transplants are not available with even the most advanced technologies, some advanced options provide minimal, practically indiscernible scarring.
For patients who wish to conceal scars from hair restoration surgery, consider the following hair loss treatment options.
Investigate FUE with ARTAS
Follicular unit extraction (FUE) removes follicular units from a donor area using a small circular needle called a "punch." The tiny size of the needle creates "dot-like" scars instead of one, more obvious line across the donor area commonly seen in strip removal. FUE allows individuals to wear hair shorter without visible scars. At Miami Hair, we incorporate the ARTAS physician-guided robotic system for FUE, the most advanced method in today's market. Dr. Rose was one of the initial physicians to implement FUE in his hair restoration surgeries and has been using the procedure since 2004.
Incorporate laser therapy
Dr. Nusbaum is an ISHRS Golden Follicle Award winning surgeon who recommends low-level laser therapy (LLLT) products, including the Capillus272™ Pro, to his patients. Hair transplant surgery harvests donor hair from the back or sides of the head, which is then moved to the areas of the scalp with dominant hair loss. However, the number of follicles available for donation are limited. Therefore, he recommends LLLT as an added, at-home therapy for optimal post-transplant results.
"When you have a hair transplant, it is equally important to put the brakes on hair loss," said Dr. Nusbuam. "We recommend a complement to hair transplant surgery, and finasteride, minoxidil as well as laser therapy with Capillus products are an excellent option. These treatments can be used singly, or in combination."
Learn about closure techniques
Another technique that lessens the look and visibility of scars is the closure technique, which is used to restore the donor site back to its original state. This process typically follows micrograft hair transplants. Dr. Rose developed the ledge trichophytic closure technique as a way of disguising the donor area scar by directing individual hairs to grow through the scar site, hiding the scar from plain view.
Choose an experienced surgeon
The Hair Institute of Miami is the only clinic in the world with two ISHRS Golden Follicle Award-winning surgeons on staff. Both Dr. Rose and Dr. Nusbaum are equipped with the experience, track record, research and overall know-how to create natural-looking results. Dr. Rose, M.D., J.D., has over 20 years of experience in hair restoration surgery and is recognized as an international leader in seamless hair transplants. Dr. Nusbaum, M.D., has performed over 10,000 hair transplants in the last two decades, and holds a position as a Diplomate of the American Board of Dermatology.
To schedule an appointment at the Hair Transplant Institute of Miami, submit an inquiry online or call our office directly at (205) 925-0222.