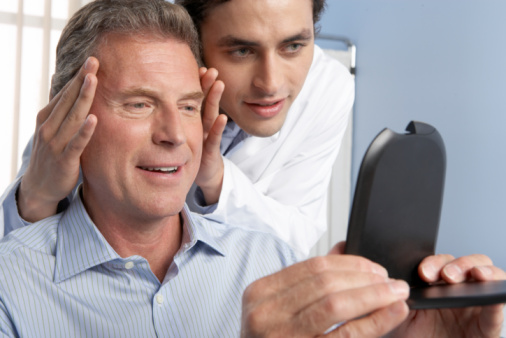 June 15, 2020
The world-renowned hair restoration surgeons at the Miami Hair & Skin Institute have helped thousands of patients turn back time by reversing the toll that it takes on their once-robust and full heads of hair. For the overwhelming majority of our hair transplant surgery patients, this is the first time they are undergoing the procedure. By providing exceptional results, we endeavor to make it the last time as well.
Sometimes, however, patients come to us after they've undergone a transplant that fell far below their expectations or left them with results that look unattractive or obvious. Usually, this is the result of a surgeon who lacked the skill, talent, and experience to perform the procedure correctly, leaving the patient thousands of dollars poorer and with a transplant that causes more embarrassment than pride.
Many of these individuals, if given a chance, would rather return to the appearance they had before their botched transplant than live the disappointing results of their surgery. That is where hair transplant reversal comes in.
Why Do Patients Want to Reverse a Hair Transplant?
Reasons why patients may seek to reverse a hair transplant include:
Large or poorly transplanted grafts to the frontal hairline that appear like "hair plugs" or "doll hair"
A frontal hairline the surgeon placed too far forward
The surgeon put transplanted hair in the wrong direction
Prominent scarring in the donor and extraction areas of the scalp
Goals of A Hair Transplant Reversal
The objective of most hair transplant reversals is to make the person look like they never had hair transplant surgery in the first place. This can involve some of the same techniques we use in initial hair transplant surgery to replace hair from the donor area or to camouflage scarring.
While a hair transplant reversal can certainly resolve many of the disappointments that come from an earlier, subpar procedure, these efforts may not achieve the goals you had for your initial surgery. That is why it is so important to get it right the first time. Whether you are seeing us for your first hair transplant procedure or to improve on a previous one, our goal is always the same: to provide you with an exceptional patient experience and results that leave you beyond satisfied.
Call the Miami Hair Institute Today to Learn More About Hair Transplant Reversal
At the Miami Hair Institute, we know how much you invest – financially, emotionally, and otherwise – in your hair restoration. That is why they perform every transplant with the goal of exceeding your expectations.
To learn more about hair transplant reversal and to receive a personalized evaluation and treatment plan, contact us online or call our office directly at 305-925-0222.