September 19, 2016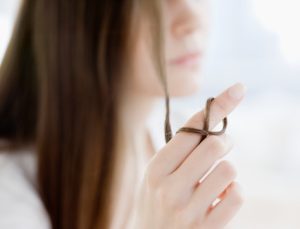 Hair loss compromises self-image, confidence and emotional well-being. However, being proactive by scheduling a hair transplant, using topical treatments, taking prescription medications or undergoing low-level laser therapy (LLLT) is a step in the right direction. While the aforementioned therapies are typically successful, growth does not happen overnight. In the meantime, patients have a few options to limit the appearance of hair loss while waiting for restoration treatments to take effect.
Hairpieces or Wigs
Wigs are a fun way to express your style. For hair loss patients, wigs might be necessary to keep up appearance and avoid embarrassment, depending on the individual's sentiments about their condition. Many women spend years growing and grooming their hair long, strong and shiny, making excessive thinning especially upsetting. While wigs are typically safe, extensions, especially the temporary clip-in kind, are not recommended. These styles put excessive strain on the follicle at a time when follicle health is vital.
Keratin Hair Fibers
Hair fibers are used to conceal diffuse thinning at the root. These small particles provide instant coverage for a fast and convenient fix. After cleaning and styling hair, lightly sprinkle fibers over the thinning area. Then, lightly pat hair until the fibers blend in with your roots. Make sure to comb hair before use, as bristles can loosen the fibers from their place on your scalp. 
Hats and Coverings
Many patients suffering from thinning or balding locks rely on hats to conceal their conditions. Did you know you can wear a hat to conceal hair loss while treating your condition simultaneously? With the Capillus272™, a small insert containing laser diodes is placed underneath your favorite sun or baseball cap. From there, just wear the portable, battery-powered device for 30 minutes, 3-4 times per week. Cool (and safe) laser technology nourishes inactive follicles and promotes circulation to encourage growth.
Hair loss doesn't have to put you into hiding. With a few simple steps, camouflaging your hair loss temporarily recuperates confidence earlier and can even expedite the growth process. For more information on permanent hair loss solutions with Miami Hair, such as transplant surgery, contact us at 305-925-0222.