July 21, 2014
Laser hair restoration has the potential to alleviate the worry and anxiety that comes with thinning or balding hair. Around the world, millions of men and women report issues with their hair. For some, hair loss takes the form of general and spread out thinning. For others, conditions like androgenetic alopecia create pattern baldness that spreads throughout the scalp over time.
Hair restoration with a laser device is becoming an increasingly popular option for many who want a safe and effective means of restoring their natural head of hair. Laser hair restoration has recently won the praise of physicians, researchers, and patients worldwide as clinical evidence just recently proved the treatment protocol to be effective (more details below). And with both in-office and at-home laser hair restorations to choose from, patients of all ages are sure to find an option with which they are comfortable.
Proven Effective: Laser Hair Restoration via LLLT
Until recently, laser hair restoration technologies were met with skepticism from patients. For men and women who had suffered with hair loss for much of their adult lives, it seemed unrealistic that new hair could be grown simply by shining a cool and gentle laser on the scalp.
This year, skeptics were silenced when a new study showed that more than 300 men and women experienced new hair growth after just 26 weeks of using a popular at-home "laser comb" device. About 146 men and 188 women were examined throughout the study, and researchers found there to be an average of 20 new hairs grown per square centimeter of scalp. Read the study abstract here.
How Does Laser Hair Restoration Work?
The primary mechanism of hair growth during laser hair restoration is thought to be phototherapy. This is the common denominator across all low level laser therapy (LLLT) treatment devices; they all contain lasers designed to stimulate phototherapy at the roots of hair follicles. In turn, researchers believe LLLT devices improve hair follicle function and vitality, eventually "awakening" dormant hair follicles. Once awake, hair follicles can begin to sustain a natural and healthy growth cycle.
Whether receiving treatment at a hair loss clinic or using an at-home device, laser hair restoration occurs as follows:
1. After consulting with a hair transplant surgeon or hair loss specialist, you and your physician decide that laser hair restoration is the best choice to treat your specific condition.
2. Following consultation, you and your physician review different in-office and at-home laser treatment options. The difference between these two main options is outlined below.
3. At regular intervals determined by your hair transplant surgeon/hair loss specialist, you will use an in-office or at-home low level laser therapy (LLLT) device to gently bathe the scalp in cool, FDA-approved laser light.
4. Laser light is absorbed into the scalp, where it is thought to reach the hair follicles and stimulate phototherapy.
5. Treatment is continued under the guidance of your physician.
In-Office vs. At-Home Hair Restoration
There are benefits to choosing both in-office and at-home laser hair restoration. It is important to begin your pursuit of a fuller head of hair with a hair loss consultation to ensure the condition and most effective treatment options are accurately outlined by a licensed and trained professional. Following consultation, you may discuss in-office and at-home laser hair restoration treatment options with your doctor.
Benefits of in-office laser hair restoration:
In-office laser hair restoration is typically conducted using a large "dome" device that resembles the hair dryers you may have seen in hair salons. You sit under the device, and the dome delivers even LLLT exposure to the entire scalp. The biggest benefit of in-office treatment is the attention and care you receive from the hair loss clinic each time you visit. The biggest downside is travel time, and the need to make recurring appointments with your hair loss professional.
Benefits of at-home laser hair restoration:
At home, "laser comb" devices are known to be effective. The first clinical evidence for their effectiveness was released earlier this year, as discussed at the top of this article. The original study has also been cited at the end of this article.
The biggest benefit of at-home laser restoration is convenience. Hair restoration can be done at any time, even while comfortably relaxing in bed. When it comes to recurring treatment, however, patients must follow the guidelines provided by their hair loss professional (in terms of duration, frequency, and other special hair care instructions).
New Laser Cap Offers Best of Both Worlds
New "laser cap" devices offer the best of both worlds, giving men and women the freedom and flexibility to experience hair restoration at home using a device that covers the entire scalp. At the Hair Transplant Institute of Miami, we offer the Capillus 272, a device that fits discretely under patients' favorite hat or baseball cap. With the Capillus, hair restoration can be done at home or on-the-go. We've even had patients who use it while golfing.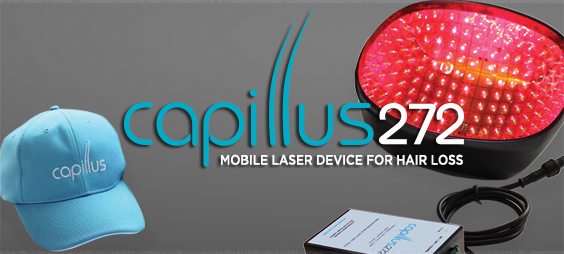 Laser Hair Restoration in Miami
To learn more about laser hair restoration at the Hair Transplant Institute of Miami, schedule a hair loss consultation online or call our clinic directly at 305-925-0222.
Sources:
John L. Satino and Michael Markou. International Journal of Cosmetic Surgery and Aesthetic Dermatology. August 2003, 5(2): 113-117. doi:10.1089/153082003769591209.