December 5, 2016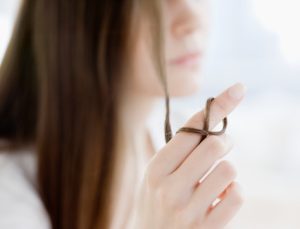 The holidays are the most joyous time of year – right? Unfortunately for those suffering from female hair loss, December's festivities are flooded with feelings of discomfort and anxiety. When you're a woman suffering from female hair loss, your initial reaction is to hide. And during one of the most social seasons of the year, coping with female hair loss is anything but easy.
Roughly 20 million women in the United States suffer some sort of hair loss condition, whether it be androgenic alopecia, telogen effluvium, anagen effluvium due to chemotherapy, traction alopecia or alopecia areata. While the statistics are staggering, knowing you aren't alone in this journey can help ease your woes. In addition to finding outside support via other hair loss patients or a highly-experienced hair loss specialist, consider the following four tips to cope with female hair loss this holiday season:
Don't Go into Hiding
Female hair loss is not your fault; nor should you be forced to suffer any more than necessary. Isolating yourself to hide the symptoms of hair loss is only going to make you feel worse in the long run. Memories created around the holidays are not something you want to miss out on, if possible. While it's not easy to hide your self-consciousness in a social situation, letting go and having fun are the best distractions during an emotionally dim period. Spending time around others who love you for you helps boost lost self-confidence. Plus, cancelling left and right is bound to bring on inevitable guilt. Imagine coming up with several bogus excuses each time you feel forced to decline a holiday invitation. The stress of getting caught in a lie or suffering a serious case of FOMO (fear of missing out) is far worse than your changed appearance.
Spend Time on Yourself
The stress of getting ready in a rush is far worse for women who have thinning hair or balding to conceal. Adopting a new hair-do is exciting assuming you have the time to practice and style your locks to your liking. Make time for grooming and styling before a big event and remember – practice is key! For women with androgenic alopecia, or diffuse thinning, a deep-swept side part can do wonders to conceal a widening middle part. Visit your hair stylist for a bang trim to capture a chicer look. Framing your face with beachy waves helps hair look fuller, so make sure you have a working curling iron or wand by your side.
For a thicker up-do, consider a high boosted bun with assistance from your wardrobe. First, cut the foot off a high sock (preferably washed or unused) and roll it into a doughnut shape. With your hair in a high pony, place the sock at the end of your strands and slowly roll down so strands completely cover the sock. If you are concerned about thinning around the scalp on display, complete the look with an embellished hair band or festive holiday ribbon.
If you're hair loss is more obvious to the point of balding or patchy loss, invest in a well-made wig. Wigs are popular among celebrities like Kylie Jenner who don't suffer from hair loss, so the shopping process is nothing to be ashamed of. Buying a wig online is an option, but the fitting and style is more difficult to determine without trying it on first. If you do decide to shop online for a wig, leave yourself ample time for returns. In addition, hair wraps and hats are both stylish and holiday appropriate. Wear a beautiful, elegant silk scarf in a traditional holiday color or don a cute Santa hat as a nod to the big jolly man himself.
Consider a Long-Term Solution
Some hair loss cases, including telogen effluvium, are temporary due to a traumatic event or sudden lifestyle change. However, many hair loss cases are genetic or prolonged. While tips and tricks for disguising hair loss work in the short-term, you can't fake it forever. Considering hair loss restoration may be critical. Visit a qualified hair loss physician or specialist who can diagnose your hair loss condition and rule out any other medical concerns. From there, you'll receive treatment recommendations based on your lifestyle and objectives. Many female hair loss patients opt for a non-invasive treatment therapy, such as a laser cap for hair loss, natural-looking hair loss surgery or a combination of the two. Whichever treatment(s) you decide to undergo, give yourself the gift of self-confidence for the holidays.
Female Hair Loss Treatment in Miami
At the Hair Transplant Institute of Miami, our primary goal is to bring relief and comfort to hair loss patients. We offer consultations to diagnose cases and rule out underlying conditions before prescribing personalized treatment programs, all with compassion and honesty at the forefront of our practice. Miami's top hair loss physicians, Dr. Bernard Nusbaum and Dr. Paul Rose, each offer decades of experience coupled with extensive research, cutting-edge technologies and highly satisfied patients. The Hair Transplant Institute of Miami is no. 1 in total Artas® Robotic Hair Transplant procedures in both Miami and the Southeast region, and among the top five nationwide. To get started on your hair restoration journey at our leading Miami hair clinic, contact us directly at 305-925-0222.
Happy Holidays!