October 22, 2012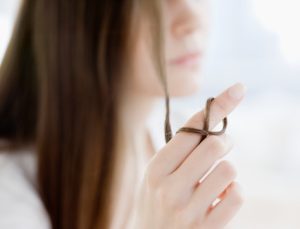 Last week, the Miami Hair Blog explored the differences in Female Pattern Hair Loss vs. Telogen Effluvium. With 1 in 4 females suffering with signs of hair loss, an important question arises:
Can hair loss be prevented?
Though the causal factors and symptoms may differ, there are a number of preventative measures that can be taken to avert Female Pattern Hair Loss as well as Telogen Effluvium. And while these measures are effective for some, the following list is not a cure-all for every woman who suffers with hair loss. Care must be taken to examine the top signs of hair loss in women regularly, as early detection is critical in effectively restoring areas of thinning / balding hair.
Preventing Female Pattern Hair Loss & Telogen Effluvium
1. Stress Management
Stress has been shown in a number of studies to trigger the onset of hair loss, particularly Telogen Effluvium, and may even worsen symptoms over time. To hedge against stress-induced hair loss, it is recommended that women practice daily stress management. Light exercise, journaling, yoga, and meditation are just a few examples of effective stress management techniques.
2. Commit to Nutritional Wellness
Like the rest of the body, hair needs a comprehensive assortment of nutrients to grow to its full potential. Follow the Healthy Hair Diet to give your hair a fighting chance at healthy, sustainable growth.
3. Rule Out Prescription Medications
A number of prescription medications may cause hair loss. Speak with your physician about the side effects of your current medications. If documented side effects include hair loss, you may wish to speak with your physician about alternative treatments.
4. Schedule a Hair Loss Evaluation and Consultation
If you suspect you are losing your hair, one of the worst things you can do is to worry. Worrying only increases stress, and increases in stress may exacerbate the problem. Instead, seek a professional evaluation and diagnosis so you may better understand the nature of your unique condition. Schedule a hair loss evaluation to speak with a professional regarding the health and vitality of your hair, and form realistic expectations regarding treatment.
5. Consider Low Level Laser Therapy
Low Level Laser Therapy (LLLT) is a popular treatment option among women because it is convenient, non-invasive, and discrete. Devices like the LaserCap™ LLLT device are designed to naturally stimulate hair growth by enhancing oxygen and nutrient delivery directly to hair follicles.
6. Advanced FUE Hair Transplant
Follicular unit transplant (FUE) procedures are another viable option for women who suffer with Female Pattern Hair Loss or Telogen Effluvium. FUE procedures harvest healthy hair follicles from the rear or side of the scalp and relocate them to the areas in which hair loss is most visible.
The Hair Transplant Institute of Miami is proud to offer the ARTAS® System for hair restoration, the world's first and only physician-guided robotics equipment designed to perform FUE procedures with unmatched precision, consistency, and accuracy. To learn more about this exciting treatment option, readers are invited to visit this Frequently Asked Questions About ARTAS guide.